Annual Dickensian Christmas market in Rochester axed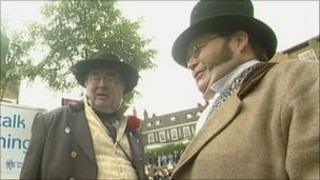 The annual Dickensian Christmas market in Rochester has been called off despite attracting about 200,000 visitors last year.
Organisers said they could not attract enough stallholders to cover the cost of staging the event.
The Medway area has strong links to Charles Dickens and held several events to celebrate his bicentenary.
Bob Cole, who is one of the organisers, blamed the economy for the loss of interest from traders.
"I think the traders for the market are disappointed, I think the traders in Rochester High Street are disappointed," he said.
"Unfortunately, we can't see any way where we're not just going to keep investing more and more money without getting a return, because of the economic situation at the moment."
Dickens grew up in Chatham and died at his home in Higham, near Rochester.