Work on River Darent aims to help Kent trout spawn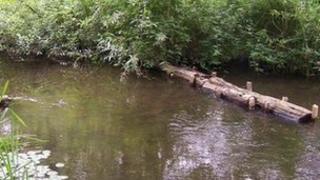 Work has been carried out on a river in Kent to help brown trout to spawn.
The River Darent, which is a groundwater fed chalk river, has been heavily modified in the past to provide power for milling and water for agriculture.
As a result, parts of the river have been drying up in hotter months.
The work, carried out by the North West Kent Countryside Partnership, has involved reducing the width of sections to improve its flow.
In-stream deflectors have raised water levels behind features to create shelter for fish.
The river has also been sped-up in places, which cleans the gravel bed and increases the opportunity for spawning.
The project has been supported by the Environment Agency and Wild Trout Trust.