Wheelchair rugby players attempt world record in Medway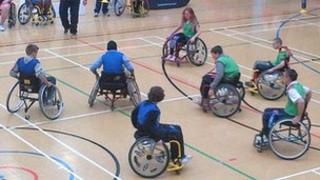 A world record attempt for the longest game of wheelchair rugby league is being held in Kent.
Two rugby league clubs, the Medway Dragons and the London Broncos, have teamed up at Medway Park in Gillingham for the game.
The teams have invited members of the public to take part in the 12-hour game, which started at 08:00 BST.
Players are raising money for the BBC's Sport Relief appeal with the match.
Every participant was asked to commit to at least one hour and raise at least £10 in sponsorship.
Seven and a half hours into the record attempt, Andy Fairhurst from the London Broncos said: "We've had 178 people take part so far, we're expecting 250 by the end.
"The game is being played to standard Wheelchair Rugby League rules but with the emphasis on enjoying the game and with the objective of introducing as many new players as possible to the sport during the course of the day. "