Ramsgate painting found in Scottish shooting lodge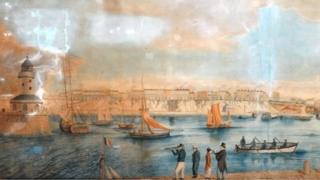 An early painting of Ramsgate harbour dating back to the 1800s has been unearthed in an attic at a shooting lodge in the north of Scotland.
The 3ft-long watercolour shows the pre-1840 lighthouse on the West Pier, of the Kent town.
Auctioneers in Edinburgh said it was a mystery how the painting by an unknown artist reached the lodge, which is near Rothes, Morayshire.
The picture is due to be sold at auction in April.
Gavin Lindsay, who is from Edinburgh auctioneers Shapes, said: "We believe this is the lighthouse designed by Samuel Wyatt in 1794.
"Unfortunately it was built too close to the edge of the pier so sailing vessels were inclined to hit it with their booms in certain weathers and it was demolished in about 1840 and replaced with the one we see today."
The best known picture of the lighthouse was painted by JMW Turner who visited the town in 1815.
"I am afraid this is not Turner," said Mr Lindsay.
"But it is all the same a fascinating glimpse into the town's history and there may well be other clues as to dates and people which only local historians will be able to see."
The value of the painting has been estimated at between £300 and £500.