'Whitstable dream' offer tempts hundreds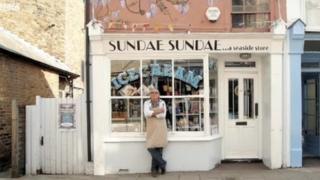 Bankers with bonuses and couples who want to retire have been among the hundreds of people flooding Steve Graham's email inbox in search of an idyllic lifestyle by the Kent seaside.
The 57-year-old from Whitstable is selling his ice cream shop, three bedroom cottage, beach hut, and dinghy in one £675,000 package.
He has lived in the quaint fishing town on the north Kent coast - famous for its harbour, oysters and shingle beaches - for 12 years after falling in love with it more than 40 years ago.
But following the death of his wife, and battling cancer himself, Mr Graham has decided it is time to move on.
Since putting his "Whitstable dream" up for sale two weeks ago, he has been inundated with interest from around the world.
"It's really gone crazy," he said. "I've been spending 18 hours a day dealing with emails."
And among all the requests for more information on a life by the sea, there has even been an offer of marriage from a woman living in Brazil.
"It's been an experience," Mr Graham said.
But who would be the ideal person to take on his lifestyle in one complete package?
Paul Jordan, branch manager of the estate agents Ward & Partners in Whitstable High Street, said he would "be surprised if it was locals".
'Niche market'
"It's more likely to be someone from outside the town wanting to have a small business here," he said.
Mr Jordan has lived in the town all his life and said there was always a steady stream of people coming from London, some of them to second homes in the area.
"They love the town for its quaintness and quirkiness, and enjoy what it's got to offer," he said.
However, he said his lifestyle would only be suitable for a "niche market".
To work close to home, with a business on the doorstep and a weekend by the sea in a beach hut "is a very attractive offer," Mr Jordan added.
Graham West, who owns West Whelks on the harbour, which has been in his family for more than 100 years, said whoever took on Mr Graham's lifestyle would have to be prepared to work hard during the summer season.
He said he was regularly asked "out of the blue" if he would like to sell his shop and added: "It's a very seasonable place... it gets very, very busy and we have quite a few festivals."
Steve Graham, meanwhile, has been separating "the possibles, the probables and the no hopers" from all the emails he has received, and has already shown 20 couples and individuals around his properties.
Among the contenders vying for his seaside dream are couples from Canada and Spain and a baker from London.
"I'm hoping to do the last of the showings next week," he said.
"I expect somebody to move in by early June as they need to get their feet under the table ready for the summer rush."