Kent couple 'terrified' by stone-throwing youths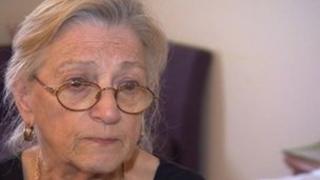 A retired couple from Kent have spoken of their terror after they were forced to flee their home when a gang of 20 youths laid siege to the property.
Barry and Sue Clark came under attack after they complained about noise from a group of young people.
Mr Clark was initially assaulted and it was when he returned from hospital that the couple were forced to barricade themselves inside their Strood house.
All of their windows were broken and they are now living in a hotel.
Mrs Clark said the attack was "absolutely terrifying".
She said: "I just feared for our lives - I really did. I just can't go back there."
Eviction measures
Mr Clark said: "I think it's terrible as we've done nothing wrong.
"All we wanted to do was sit there and listen to the telly in peace... go out when we want to without fear of people intimidating you."
Kent Police said two men, aged 18 and 19, had been arrested on suspicion of causing actual bodily harm and affray over the attack which happened on 26 March.
A spokeswoman for the Clarks' housing association, AmicusHorizon, said it took anti-social behaviour very seriously and was working with Medway Council to help find the couple alternative accommodation.
It added that it was taking measures to evict some occupants in nearby flats.