Disused Barton Hall gutted in Strood fire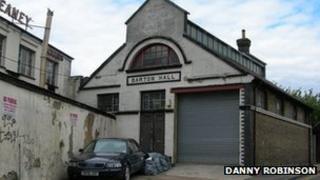 A huge fire that gutted a disused building in Medway is being investigated.
Firefighters from six fire stations were sent to tackle the blaze at Barton Hall in Strood.
Kent Fire and Rescue Service said emergency teams were called to the incident in Barton Road just after 19:30 BST on Wednesday.
The building, a disused car workshop, is thought to have been used by servicemen during World War II.
Police and an ambulance were called to the scene but there were no reported injuries.
'Black smoke'
Chris Beaney, of Beaney's Bakery, which is next to the building, said he was first alerted to the fire by the smell of smoke.
"We could see there was black smoke coming out of Barton Hall.
"The fire crew were already here... but they couldn't get into the hall. The hall had a lot of security gates on it.
"By the time they managed to get the doors open there were flames licking from underneath the shutters at the side of the hall," he said.
"Once the rafters got going at the top, it was like a bonfire and the flames were about 20ft in the air."
The bakery was not damaged by the fire, Mr Beaney added.