Danai Muhammadi 'murdered family' in Chatham fire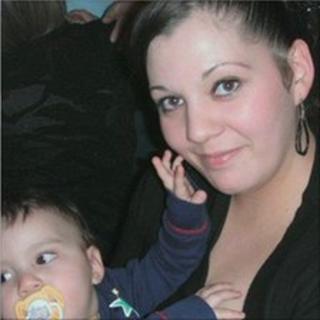 A used-car salesman was the "principal figure" in the murders of his estranged wife, their son and her father in fire at their home, a court has heard.
Melissa Crook, 20, her 15-month-old son Noah and her father Mark, 49, died as a result of the blaze at their house in Chatham, Kent on 10 September.
The fire started after petrol was squirted through their letterbox.
Ms Crook's husband Danai Muhammadi, 24, Emma Smith, 21, and Farhad Mahmud, 35, deny murder at Maidstone Crown Court.
Ms Crook and Noah died in the house in Chatham Hill after being trapped in a bedroom.
Her father suffered severe burns and smoke inhalation and died six days later in hospital in East Grinstead, West Sussex.
'Spite and anger'
The fire broke out at the base of the stairs of the three-bedroom house just before 02:30 BST, cutting off any escape route for the family who were asleep upstairs, jurors were told.
Prosecutor Mark Dennis QC said Iranian-born Mr Muhammadi, of Britannia Street, Coventry, was driven by a mixture of spite, anger and resentment after his marriage broke up and it was clear Ms Crook wanted a divorce.
He was encouraged and goaded by his new girlfriend, unemployed Ms Smith, 21, of Barley Lea, Stoke Aldermoor, Coventry and helped by his friend Mr Mahmud, of Fernhill Road, Maidstone.
All three also deny two counts of attempted murder in relation to Ms Crooks mother, Amanda and older brother Bohdan, who escaped the fire.
Mr Dennis said the arson had clearly been planned and the family home deliberately targeted.
"The perpetrators of this dreadful act plainly had no intention that the occupants of the house would be able to escape the effects of the fire," he said.
"A spray container device had been used to ensure petrol was squirted deep into the hallway and around the foot of the staircase."
Mrs Crook and Bohdan escaped from upstairs windows and recovered from their injuries but still suffer the mental scars of their ordeal.
"On the face of it, the family were an ordinary, law-abiding family, with no known enemies and had done nothing to invite such a wicked attack from any outsider," said Mr Dennis.
"There was, however, a problem within the family.
"It was a problem which had been festering for a long time and which finally came to a head with this tragic event.
"The problem centred around the young woman's estranged husband.
"Their short-lived marriage had broken down six months earlier, amidst arguments and emotional conflict, not least involving their young child."
The court heard the couple met when Ms Crook was in her early teens and married in September 2009 when she was 18. She gave birth to Noah a year later.
Cracks soon began to appear in their "floundering" marriage, Mr Dennis said, and she left the marital home in Coventry to return to her family in Kent.
The trial continues.