Fishing boat struck by lightning off Ramsgate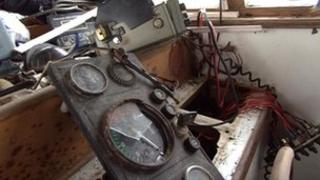 The crew of a fishing boat struck by lightning were "extremely lucky" to escape injury, the Maritime and Coastguard Agency (MCA) has said.
The lightning shattered glass in the wheelhouse, destroyed all electrical equipment on board and disabled the engine of the Progress off Kent.
The two crew members escaped unhurt because they were on the deck of the boat, the MCA said.
The incident happened off North Foreland, Ramsgate.
The crew summoned help using a mobile phone.
Ramsgate RNLI lifeboat towed the vessel back to shore where the crew were met by a Coastguard rescue team.
"The crew of this fishing vessel were extremely lucky," said Dover Coastguard watch manager Bob Giles.
"They were fishing in an area with mobile phone reception and so still had a way to call for help when the lightning strike blew out their communications equipment."