Medway Council to cut a further 70 posts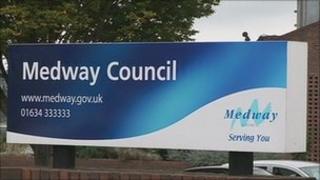 Seventy jobs are to be axed at Medway Council in addition to the 210 posts lost over the last 18 months.
The authority, which employs just under 3,000 staff, is seeking to save £14m over three years but said frontline services would be protected.
It said it would be consulting with about 300 staff to discuss a reorganisation of their roles as part of its Better for Less programme.
Last July it announced 60 job losses, just five months after axing 150 posts.
Medway Council is part way through its three-year programme aimed at making savings following significant cuts to the funding it receives from central government.
The government made an 11.9% cut in the council's funding last year and 8.3% for the current financial year.
'Challenging times'
It has the lowest council tax in Kent and one of the lowest charges among unitary councils across England.
Councillor Alan Jarrett, deputy leader, said: "I think it is fair to say that councils, like all other organisations, are facing challenging financial times.
"We have been looking hard at ways we can improve services while saving money and we have now launched the second phase of our Better For Less programme.
"This will help improve the services that residents expect and demand of a large local council like ours and also deliver significant efficiency savings."
As part of the next phase in its efficiency programme, the council also announced that residents would be able to call it in the evenings and on Saturdays for a larger range of services, and also seek advice and pay bills at its five town centre libraries.