Canterbury and Dover maternity units to close for births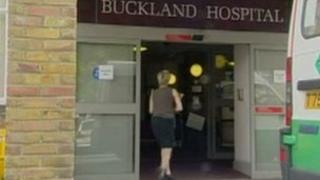 Two birthing centres for expectant mothers will close following a review of maternity services in east Kent.
The centres in Canterbury and Dover are being replaced by units attached to hospitals in Ashford and Margate.
NHS Kent and Medway said the decision offered the best quality of care for all mothers and babies, and a safe, sustainable service for the future.
Campaigners for births to continue at the Canterbury and Dover centres said the changes deprived mothers of choice.
David Shortt, from the campaign group Concern for Health Care in East Kent, said: "Home births and birthing unit births are generally considered to be the future way forward for the NHS and we seem to be deciding that we're not going to follow that trend.
'Staff flexibility'
"I think it's bad for the NHS because it's more expensive for mothers to give birth in hospitals and it's also depriving them of choice."
NHS Kent and Medway said it was spending more than £700,000 over the next year to employ 30 midwives and midwifery staff at an existing unit at the William Harvey Hospital in Ashford and a new unit at the Queen Elizabeth The Queen Mother Hospital in Margate.
The centre in Margate is expected to be opened in September.
East Kent GP Dr Sarah Montgomery, who led a review of the area's maternity services, said: "By stopping births in the two maternity units in Canterbury and Dover, we have flexibility of staff and we can ensure that all women, wherever they deliver, can have one-to-one care from a midwife when they're in established labour."
NHS Kent and Medway said the new midwife-led units would be next to consultant-led wards, which would offer rapid access to doctors in case of emergency and specialist neonatal intensive care on site.
Community teams will continue to be based at the Canterbury and Dover centres, which will still offer services such as, midwife and consultant-led clinics, parent education classes, postnatal breastfeeding help and advice.