DFDS and LD Lines launch second ship on Dover-Calais route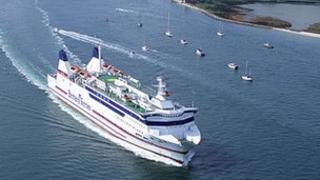 A ferry company has launched a second ferry, Deal Seaways, on its Dover to Calais route.
The new ship has allowed operators DFDS Seaways and LD Lines to double the number of daily return sailings to 10.
The ship has been chartered from Brittany Ferries, and was previously known as the Barfleur and will be operated by a French crew.
DFDS and LD Lines joined forces to sail the cross-Channel route following the liquidation of SeaFrance in January.
The Deal Seaways joins the Normal Spirit which made its maiden voyage between Dover and Calais on 17 February.
Three ferries were operated by SeaFrance on the Dover to Calais route.
The French firm, which carried more than 3.5 million passengers a year on the Dover to Calais route, went into liquidation in January with a loss of 127 jobs in Dover and hundreds more in France.