Tory Tunbridge Wells leader Bob Atwood loses seat to UKIP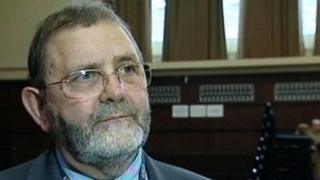 The Conservative leader of Tunbridge Wells Borough Council has been unseated by a UKIP candidate.
Bob Atwood, who was elected leader of the council in January 2011, lost to Piers Wauchope of UKIP by 46 votes in the borough's Rusthall ward.
The Tories also lost a seat to an independent, but retained overall control. Labour gained a seat and the Liberal Democrats lost one.
The Conservatives also retained control of Maidstone Borough Council.
'National agenda'
Following the result, Mr Atwood said: "I think I've lost my seat for all the wrong reasons.
"Having lost to UKIP I have to ask, and have to wonder, what UKIP can possibly offer the people of Tunbridge Wells?
"I think UKIP have a national agenda, which is almost xenophobic, and has nothing to do with Tunbridge Wells and the way the council is being run.
"Although I have to respect the views of the people and I certainly do... I think they'll live to regret it sadly and I'm very sorry for the people who have supported me.
"I think it's a disaster for me and for Tunbridge Wells that this has happened at this point in time."
Mr Wauchope said: "It's a fantastic victory for us and the only message we wanted to get out, as far as the electorate were concerned, is that UKIP has policies that resonate with ordinary people for more than the Conservatives now do.
"All I want to say about Bob Atwood is that he is a good man and a good local councillor but the people in Rusthall were reluctant to vote Conservative, as they did in the past, because of the policies of the government rather than what Bob Atwood did or didn't do."
In Maidstone the Conservatives kept 30 seats with opposition Liberal Democrats losing two seats.
Labour gained a seat after having no councillors in the borough before the election.
Maidstone Borough Council leader Christopher Garland welcomed the result and said he believed it "vindicated" the council's record.
Mr Garland said: "I think the result overall, where we've maintained our majority, has vindicated our position on generating jobs and bringing investment into Maidstone borough.
"We're making sure that Maidstone is a prosperous town when the upturn comes."
In Tunbridge Wells the Conservatives have 37 seats with the Liberal Democrats, the next largest party, on five.
· All the latest election results are available at bbc.co.uk/vote2012