Ashford housing plan 'unwanted'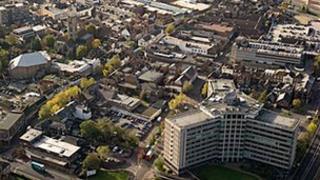 Residents are being asked for their views on plans to build nearly 6,000 houses to the south of Ashford.
The proposed development by Ashford Borough Council would cover about 1,000 acres at Chilmington Green.
Some residents have said the plan to "basically build a new town in the area" is "unwanted" and "unnecessary".
A council spokesman said it would listen to residents' views on improving the plans but it was under pressure from the government to build houses.
The Chilmington Green Area Action Plan (AAP) proposes to build a major urban extension to Ashford of up to 5,750 homes and create 1,000 jobs, over a period of about 25 years. The plan is to create a new community with a high street, schools and health and other community services.
'Back garden of London'
Chilmington Green resident Gerry Preston-Ladd said: "The plan is to basically build a new town to the south of Ashford and what we don't like about it is that it is unwanted and unnecessary."
Another resident, Ralph Carpenter, said: "I think that the problem is that Ashford was a country market town, it became a railway town and now they've got delusions of grandeur and they want to turn it into a city.
"The last thing the South East needs with its overloaded infrastructure, with the drought situation, with the railways at capacity, is another city sprawling across the garden of England.
"It will simply just turn it into the back garden of London."
Richard Alderton, the council's head of planning of development, said: "We will certainly listen to messages about how our plan can be made better, but we are under pressure. The government has made it perfectly clear that the nation's got to increase (the) rate of housing delivery not decrease it.
"It has made it perfectly clear that where you have an existing adopted plan, which we do with the Chilmington Green proposal in it, that you should carry on and implement those. So we would be in very murky water if we decided simply to drop this proposal."
The public consultation will close on 11 June.