Twenty more jobs go at Isle of Sheppey Thamesteel plant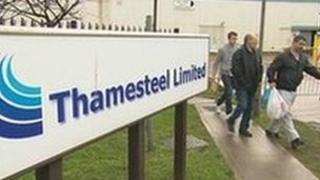 Twenty more posts are to go at a steelworks on the Isle of Sheppey in Kent which went into administration.
Adminstrators of Thamesteel, which previously employed 400 people, said there had been problems securing a deal with a potential buyer.
Accountancy firm Mazars said part of the site would have to be powered down.
More than 350 people lost their jobs after the company in Sheerness announced it was going into administration in January.
Lead administrator Rod Weston said: "We have been in discussions with a potential purchaser and have been hopeful that a sale would be agreed.
"Very disappointingly however, over the last 24 hours, problems arose which have now made completing a deal difficult and far less certain."
He added: "Taking into account the site's considerable current operating costs - in excess of £100,000 per week - and the fact that a deal is now further away than anticipated, the Administrators have no alternative but to move into a further phase of cost reduction.
"This will result in the power down of some of the plant and, sadly, a further 20 redundancies."