Sir Hugh Dowding plaque: Battle of Britain mastermind honoured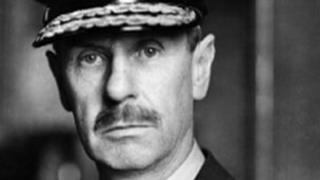 A plaque has been unveiled in Kent to commemorate one of the masterminds behind the British victory over the Luftwaffe in the Battle of Britain.
Air Chief Marshall Sir Hugh Dowding was head of Fighter Command during the battle in 1940, though he was forced to retire from the post a year later.
Later Lord Dowding, he lived in Darnley Drive, Southborough, near Tunbridge Wells, between between 1951 and 1967.
The plaque is the first of eight to be unveiled by the Southborough Society.
Before the war, Sir Hugh pushed for the building of Hurricane and Spitfire aircraft and worked on the development of radar.
"His planning was absolutely superb," said Ron Sawyer of the RAF Association.
"The whole of the coast of England right up to Scotland was covered by radar stations which were able to pick up and control the fighters."
Despite his role in the defeat of the Luftwaffe, RAF internal politics saw Sir Hugh replaced soon afterwards.
"What we shouldn't do is to remember him for the nasty things said about him," said RAF veteran Gordon Watkins, who attended the unveiling of the plaque.
"Without him we wouldn't be where we are today, I'm sure."
The green ceramic plaques have been made by a local potter and funded by Tunbridge Wells Borough Council.
Other former Southborough residents to be commemorated include the first woman member of the Cabinet, Margaret Bondfield, and artist Ernest Rowe.