Kent hospitals 'sorry' after 250 operations cancelled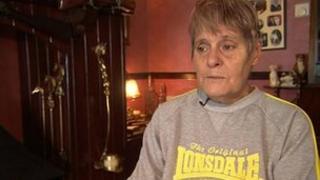 Hospital bosses in Kent have apologised to 250 patients after they were removed from waiting lists for surgery.
Maidstone and Tunbridge Wells NHS Trust said the "confusion" was caused because patients' initial assessments did not follow the normal guidelines.
One patient affected, 70-year-old Janet Pack, from West Kingsdown, said she was in constant pain after she was taken off the list for gallstone surgery.
Her operation at Maidstone Hospital has been rescheduled for 15 May.
Mrs Pack first saw her doctor last October after developing abdominal pain.
Repeated calls
After a scan as an NHS patient at a private hospital, she was seen at Maidstone on 15 December and told she would be contacted about an operation.
But, after repeated calls from her family and her doctor, she discovered she had been removed from the waiting list along with more than 240 other patients.
"I thought how can you take me off the list? Nobody has seen me since December," she said.
"The pain was getting worse, so in the meantime I'd gone to the doctor's. He said the only thing we can do is put you on morphine that will dull it away."
The Patients Association said waiting lists for gallstone operations had increased by 10 days on average in 2011 across NHS trusts it had surveyed.
"We are concerned that stories such as this one are becoming commonplace in an NHS which is facing huge pressure on resources," it said.
The trust said no patient would be denied surgical care if that was clinically the best option for them.
"We have written to around 250 patients to explain the situation and sincerely apologise that their initial assessments did not follow our normal best practice guidelines," said the interim director of operations, Shane Morrison-McCabe.
"Those who request it are being re-assessed.
"We have spoken to Mrs Pack and apologised for the confusion caused because she did not receive the letter explaining the situation from us in good time.
"The trust denies removing any patients from the surgical waiting list for financial purposes."