Fire murder accused Emma Smith 'shocked at deaths'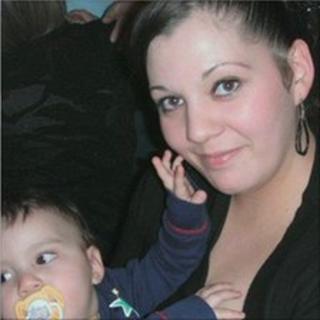 A woman accused of involvement in an arson attack was shocked to learn of the deaths of three members of the same family, a court has been told.
Melissa Crook, 20, her 15-month-old son Noah and her father Mark, 49, died as a result of the blaze at their house in Chatham, Kent, on 10 September.
Emma Smith, 21, had appeared to be her normal self after seeing photos of the burnt-out house, the court heard.
Ms Crook's husband Danai Muhammadi, Ms Smith and Farhad Mahmud deny murder.
Maidstone Crown Court was told that Mr Muhammadi, 24, had been cautioned by police in 2011 for common assault on his wife, Ms Crook.
'Looking at phone'
Mr Muhammadi was arrested, together with his new girlfriend Ms Smith and his friend Mr Mahmud, 35.
Ms Smith's friend Wayne Elliot said she had appeared her normal self after the blaze, but had seemed shocked when she had seen images of the house and learned that people had died.
In a statement to police, he said: "Emma was looking at her phone and someone had called her a slag for going out with someone who had killed his wife and their kid."
The court was told that Ms Smith "encouraged and goaded" Mr Muhammadi, who was facing divorce from Ms Crook following the breakdown of their marriage.
Mr Muhammadi, of Britannia Street, Coventry, Mr Mahmud, of Fernhill Road, Maidstone, and Ms Smith, of Barley Lea, Stoke Aldermoor, Coventry, all deny three counts of murder and two counts of attempted murder in relation to other family members who survived the fire.
The trial continues.