Chatham family murder accused Danai Muhammadi 'loved son'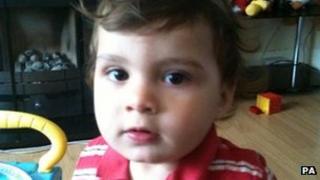 A man accused of killing his son, estranged wife and father-in-law in an arson attack in Kent has told jurors of his "great love" for his child.
Danai Muhammadi, 24, of Britannia Street, Coventry, denies three counts of murder over the fire in Chatham.
He admitted he was not happy when he learned Melissa Crook was expecting his son, Noah, in an unplanned pregnancy.
But he told Maidstone Crown Court he loved his son and would never have wanted him to be harmed.
Last year's fire in Chatham Hill killed 20-year-old Ms Crook, her father 49-year-old Mark Crook and 15-month-old Noah. Mr Crook suffered severe burns in the fire and died six days later in hospital.
Son 'meant everything'
Speaking through an interpreter, Iraqi-born Mr Muhammadi said: "Certainly I loved my child, my son. He meant everything to me and I was very happy.
"I prayed to God that any harm or disease that came to him be passed on to me, not him."
He told the court he had a tattoo of Noah etched on his arm, against his religious beliefs
When he was asked if he ever wished disaster to strike Noah, Mr Muhammadi replied: "No, not at all."
The court heard Mr Muhammadi arrived in the UK in 2005 at the age of 18 and worked in factories in Hull before moving to Maidstone two years later when he met Ms Crook, married her a year later, and the couple then moved to Coventry.
Mr Muhammadi said Ms Crook's family were "good and supportive", he considered them his family, and the couple's cultural differences never led to rows.
But jurors heard their marriage broke down after he slapped her around the face after she refused to have sex with him in March last year.
'Petrol sprayed in'
The jury heard Ms Crook reported the incident to police and Mr Muhammadi accepted a caution, after which she moved out of their home in Coventry and returned, with Noah, to live with her parents in Chatham.
Mr Muhammadi told the court he disputed her account of events.
He said he had turned his back on her in bed after a long day, the couple had an angry exchange, Ms Crook said he made her feel sick, he spat at her, she spat back and slapped him, and he returned the slap two or three times but without causing lasting injury.
He said the family did not make him feel welcome after she returned to Chatham but he did not harbour resentment and had not threatened them.
Mr Muhammadi said he had never used violence against Ms Crook either before or after the incident and when asked how he felt, he replied. "I feel bad, I feel ashamed."
He said he tried to patch up their relationship and she visited him in Coventry.
Two other defendants - Mr Muhammadi's new girlfriend, unemployed Emma Smith, 21, of Barley Lea, Stoke Aldermoor, Coventry and Mr Muhammadi's friend, Farhad Mahmud, a 35-year-old door supervisor, of Fernhill Road, Maidstone - have also denied three counts of murder.
All three defendants deny two counts of attempted murder in relation to other members of Ms Crook's family who escaped the burning house on 10 September.
The court has been told petrol was squirted through the letter box of the family's three-bedroom home, and a fire broke out at the bottom of the stairs cutting off any escape route.
The trial continues.