Kent primary schools told to improve by county council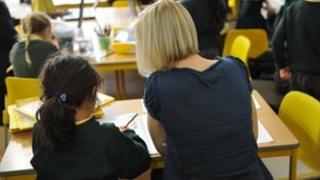 Primary schools in Kent must improve as one in five are not reaching minimum standards in English and maths, according to Kent County Council.
A council report said the county currently ranked 120th out of 150 local authorities in Key Stage 2 attainment.
Mike Whiting, cabinet member for education, has pledged to raise standards over the next three years.
Nigel Utton, chairman of the Kent Association of Headteachers, blamed a focus on Sats for the problem.
Mr Whiting said the council was going into schools to identify what it could do to improve standards.
"It may be leadership issues, it may be quality of teaching... there may be elements of the curriculum that need looking at," he said.
"We want good or outstanding teaching for all of the young people in Kent."
'Nature of Kent'
The report outlines what schools should do to improve.
Mr Utton blamed the "nature of Kent" and an over-reliance on Sats results as an indicator of success.
He said: "Kent is one of the largest authorities, so when you're comparing it with somewhere like Kensington and Chelsea, it's not surprising they do better, so we have to be careful about the statistical comparisons.
"Having said that, I don't think there's a head teacher in Kent that would disagree with the report, because everything in there is really sensible stuff.
"It's about schools working together to improve, and best schools working with schools that are struggling so we get best practice across the whole of Kent."