Margate Museum asks for Mods and Rockers memories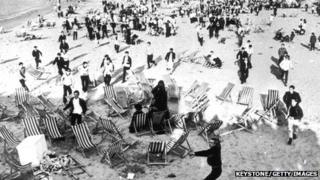 People are being asked to share their memories of the violent clash between teenage Mods and Rockers on Margate beach in 1964 for a new exhibition.
On the Whitsun weekend police fought running battles with teenagers and homes and businesses were vandalised.
The result, according to the local paper at the time, was that two youths were taken to hospital with knife wounds and 51 were arrested.
Margate Museum is creating a exhibition about the event called In Their Words.
Lizzie Rose, exhibition curator said: "I think it was a beginning of a lot of people's venture into teenagerdom.
'Two tribes'
"The evolution of the teenager was something that was really important at that time. I think that it's a really important part in Margate's history.
"We are looking for a range of people, not just Mods and Rockers.
"We would love to hear from some people who were there - if they were perhaps working in Margate at the time, maybe they came down for a day trip and I would really like to hear some of the girls' stories."
Brian Lewis, who was a Mod in 1964, said: "It was the clothes that attracted me to it.
"It never leaves you, I don't know if it is the same for the Rockers, but it certainly is when you were a Mod.
"The whole clothes thing goes through your life."
Speaking about the day of the clash on Margate beach, he said: "It was just a meeting of two tribes and part of it got out of hand.
"It wasn't as bad as it was made out to be, I'm sure of that."
The exhibition is on at Margate Museum from 2 June to 9 September 2012.