Photograph of Charles Dickens' wife sold at auction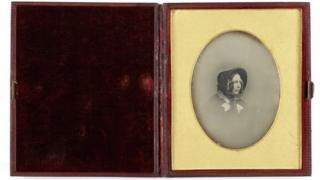 An early photograph of Catherine, the wife of Charles Dickens, thought to be the only one of its type, has been sold at auction for £8,750.
The picture, in a Morocco-bound case, was discovered in an antique camera shop in Canterbury in 1996.
John Jabez Edwin Mayall produced the image using a silver copper plate (daguerreotype) between 1852 and 1855.
Letters from Dickens suggested that he and Catherine may have sat for Mayall together at his studio.
A similar portrait of Dickens, dated 1853-55 was sold at auction in London in 2001.
Pickwick Papers
The portrait shows Catherine when she was about 40. It was first thought to show Dickens' sister, Fanny.
In 1833, Dickens married Catherine Hogarth, daughter of George Hogarth who edited Sketches by Boz, and the same month he published the successful Pickwick Papers.
Catherine and Dickens were estranged in 1858 and Dickens continued his relationship with his mistress, Ellen Ternan.
According to auctioneers Bonhams this is the only daguerreotype portrait of Catherine known to exist.