Kent baby's life saved by dental staff after seizure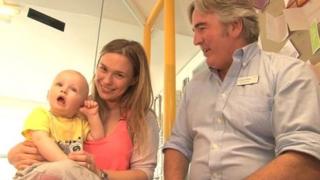 A mother has spoken of how staff at a dental practice saved her baby's life after his heart stopped following a seizure.
Agnes Wrodarczyk, from King Street, Canterbury, was at home with son Henry when his heart and breathing stopped.
She called 999 but rushed him to the nearby Richard Flanagan and Associates dental practice for help.
Staff managed to resuscitate the 10-month-old and he has since made a full recovery.
Ms Wrodarczyk said: "We couldn't feel the pulse, hear the heart or feel him breathing and I thought he was dead - he looked dead.
"I thought this is it - I thought I lost my little boy."
'Colour rushed back'
Once at the dental practice, reception staff and dentist Richard Flanagan attempted to resuscitate him.
Mr Flanagan said: "After about 30 compressions and approximately 45 seconds the baby just sprang to life.
"The eyes looked lively, the colour rushed back and it was just the most amazing feeling."
Ms Wrodarczyk added: "When I saw him sitting up and reaching towards me it was the happiest day."
Doctors believe the seizure, which happened on 19 April, may have been caused by a virus.