Chatham family murder trial: Jury considers verdicts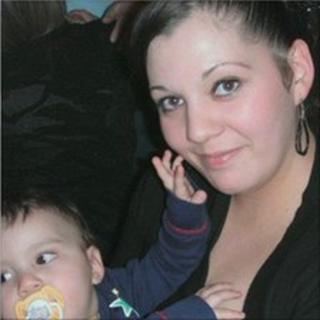 The jury in the trial of a man and two friends accused of murdering his son, estranged wife and her father in a fire in Kent is considering its verdicts.
Danai Muhammadi, his girlfriend Emma Smith, both from Coventry, and his friend, Farhad Mahmud, of Maidstone, deny three counts of murder.
Melissa Crook, 20, and the couple's baby son, Noah, died in the fire, in Chatham. Her father, Mark, died later.
The defendants at Maidstone Crown Court also deny two attempted murder charges.
Prosecutors said Mr Muhammadi, 24, of Britannia Street, was driven by a mixture of spite, anger and resentment after his marriage to Ms Crook broke up and it became clear she wanted a divorce.
Mark Dennis QC said the Iranian-born former factory worker was encouraged and goaded by his new girlfriend, unemployed Ms Smith, 21, of Barley Lea, Stoke Aldermoor, Coventry, and helped by Mr Mahmud, of Fernhill Road, Maidstone.
Escape route 'blocked'
Mr Dennis said petrol was squirted through the letter box of the family's three-bedroom home in Chatham Hill in the early hours of 10 September 2011 and was ignited.
The fire started at the bottom of the stairs, cutting off the escape route for the family, asleep upstairs.
Ms Crook and 15-month-old Noah died in the fire. Mr Crook suffered severe burns and died later in hospital.
The court heard that Ms Crook's mother, Amanda, and brother, Bohdan, escaped the fire. The defendants deny their attempted murder.
Mr Muhammadi told the court a mystery man had threatened his family and demanded £5,000, which he failed to hand over.
Hours later, three members of his family were dead.
The court was also told a garden-spray container, which tested positive for petrol vapour, was found in the bathroom of Mr Mahmud's home. He did not give evidence.
A friend of Miss Smith told the court she had seemed her normal self after the blaze but had seemed shocked when she saw the images of the house and learned that people had died.