Diamond Jubilee: Ightham holds medieval Coxcombe Fair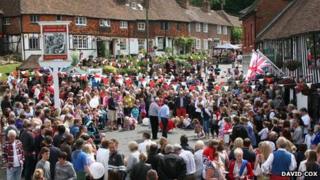 Across the country people are marking 60 years of the Queen's reign with celebrations for the Diamond Jubilee.
One Kent village has opted to exercise its 14th Century right to hold a fair.
The Coxcombe Fair was first held in Ightham, near Sevenoaks, in the Middle Ages, after the Lord of the Manor requested a licence from the king in 1315.
King Edward II gave the village a Royal Charter to hold a weekly market and an annual three-day fair.
Over the centuries, the medieval fair died out. But villagers re-established it in 1977 for the Queen's Silver Jubilee.
Since then, patriotic bunting has decked the streets of Ightham in 1988 to commemorate the defeat of the Spanish Armada, in 2002 for the Golden Jubilee, and this year for the Diamond Jubilee.
'Pure entertainment'
Penny Cracknell, one of the organisers of this year's event, said the revived Coxcombe Fair became a one-day event that is only held on auspicious royal occasions.
She said: "Originally, it was just for villagers - a classic medieval street fair with food and drink.
"But the emphasis has changed to pure entertainment, and carnival."
Jean Stirk, who is documenting the history of the village for the Ightham History Project, still remembers when the Coxcombe Fair was revived. It was the year she moved to the village.
She said: "It was such a big event. We are in such a sloping area, we can't have standard street parties with people at tables. So we have a mix of stalls - and it was originally a market."
Ms Stirk said: "It's something very special. We are very proud of the fact that it's something rather different.
Flower-power fashion
"And we still have medieval houses and medieval buildings here, so the fair is the character of the place."
Visitors have been encouraged to arrive in "suitably-themed" red, white and blue outfits, and were told to search their wardrobes for bell-bottoms, flower-power outfits, skinny ties, mini-skirts and hot pants.
For the carnival, village societies were asked to think of key features of the past six decades. St Peter's Church looked at the ascent of Everest, Ightham Primary School covered the first landing on the moon, and members of the WI were dressing up in costumes through the time, from the 1950s onwards.
Roads in Ightham were closed for the fair which was continuing into the evening.
Celebrations are set to last through the weekend with a Jubilee Beacon due to be lit in Mill Lane on Monday.
Footage of the last Coxcombe Fair in 2002 is held by Screen Archive South East .