Queen's Diamond Jubilee celebrated in Kent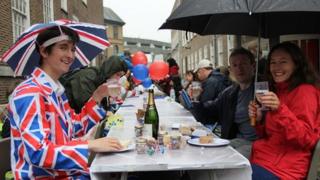 Thousands of people in towns and villages across Kent have taken part in street parties to celebrate the Queen's Diamond Jubilee.
In Dover, visitors joined in the Big Lunch and watched events in London on the BBC's big screen.
More than a dozen Kent boats - including World War II supply ship Vic96 - have been among the hundreds of vessels in London's Jubilee Pageant.
Skipper Derek Gransden said: "It's all very exciting."
His vessel was part of the Avenue of Sail which features boats that are too tall to travel under bridges and stretches from London Bridge to Wapping.
Before the event started, he said: "We're just between Tower Bridge and London Bridge opposite the Belfast, we're lined up with lots of Thames barges.
"Believe it or not the banks have been jam-packed with people since about six o'clock this morning despite the fact that it's been pouring with rain.
"We get the luxury of watching it [the pageant] all go up, as it has done this morning to get on station, and then watching them come back this afternoon."
Floating parliament
A replica of the Houses of Parliament has also been unveiled in Goudhurst.
The 30ft-long (9m) plywood structure, which includes a 14ft (4.3m) high Big Ben bell tower, was created over four weeks and is now floating in the village pond.
Hundreds of small wooden boats made by local schoolchildren were placed in the water on Sunday at 15:00 BST to recreate the pageant taking place in London.
A replica of the Houses of Parliament was floated on the pond to mark the Queen's Coronation in 1953.
In Tunbridge Wells, young and old braved the weather to enjoy a picnic and slices of Jubilee cake.
Barbara Macnab, 44, of Ticehurst, said: "We came down because we wanted to join in the celebration of the Jubilee and there wasn't anything in our village.
"It's a big thing for the children because they won't see anything like this again. I want them to remember it and be able to tell their grandchildren. It's nice to see everybody getting involved and celebrating - united."
She added: "The Queen's done a marvellous job considering how young she was when she started."
A tea party and mass zumba dance challenge involving 1,000 people was held in Ramsgate.
Meanwhile people in Gillingham were invited to dress up as as a famous personality from the past 60 years to mark the Queen' Diamond Jubilee at the town's Big Lunch event.
See all the latest Diamond Jubilee news and features at bbc.co.uk/diamondjubilee