Kent schools' use of Vivo Miles reward scheme criticised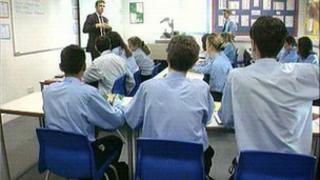 A reward scheme used by Kent schools has been described as "discriminatory" by the Campaign for Real Education.
Twenty-four schools use the Vivo Miles scheme, which issues pupils with supermarket-style reward cards.
Students can collect good-behaviour points for turning up to lessons and doing their homework, which they can use to buy items such as iPods.
School principal David Day said the scheme acknowledges good behaviour and work for all students.
However, Chris McGovern, from the Campaign for Real Education, said: "The long-term effects of this is to tell children that they have to be rewarded in order to have an education.
"An education is the greatest gift one generation can pass on to the next generation. If you've got to bribe children to come to school, to turn up for lessons, to bring their PE kit, the message going out to children is that education is not valuable in itself."
'Misguided'
Mr Day, head of The Isle of Sheppey Academy, which introduced the scheme in 2010, said: "The point about rewards is one must look to reward all students equally, not just students who have reformed their behaviour but give all students acknowledgement for good attendance, hard work and the right ethos you want to create for the world of work.
"It's great for students to be able to go home to their parents and to have a tangible reward for what they've been able to achieve and do at school.
"It brings a dialogue also between the child and the parent which is crucial to success in education."
But Mr McGovern said he believed that the scheme was "discriminatory".
"When you get children who are from different backgrounds, so they turn up late for school because they've got real problems at home, or they haven't got the ability to provide a school uniform - they are the ones who get penalised because they don't get the points," he said.
"The system is absolutely wrong and it's misguided. But the dangerous thing is it seems very well intentioned - it is disastrous."
In response to the criticism, Mr Day said: "I genuinely don't accept its discriminatory, I think it's even-handed.
"It's applied by teachers to pupils who produce individual pieces of work and it's not the only award that the Isle of Sheppey Academy have.
"We have several other awards and you choose the award that's most appropriate to motivate the child."