Sheep exported from Ramsgate had no access to water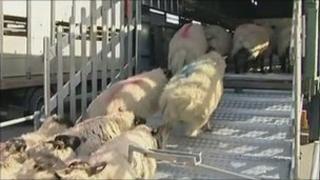 Sheep being transported from a Kent port to France had no access to drinking water because of a faulty pump on a lorry, the RSPCA has revealed.
Hundreds of live sheep were on board the vehicle and the haulier received a warning notice from RSPCA inspectors.
The faulty pump was repaired at the Port of Ramsgate following the incident on Wednesday, and the lorry continued on its journey to Holland via Calais.
Campaigners against live animal exports have held protests at the port.
Welfare rules
Dr Julia Wrathall, head of the RSPCA's farm animals science team, said: "Drinking water is one of the essential basics that sheep, or any animals, need during a journey which potentially can be long and hot.
"It's very concerning that a lorry transporting live animals abroad had a faulty water pump but it's a relief that this was rectified so quickly.
"This breach of welfare rules highlights the need for better enforcement across Europe and a maximum eight hour journey time to help reduce the risk of animals suffering unnecessarily during transportation."
The breach came as the European Commission rejected a petition signed by more than a million campaigners and almost 400 MEPs calling for a maximum eight hour journey time.