Thanet's sewage system 'is not fit for purpose' MP says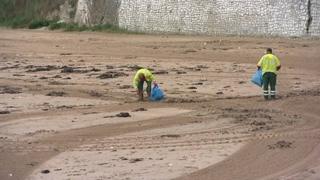 A Kent MP is calling for an investigation into why sewage was discharged into the sea again following a fault at a pumping station.
Waste water was discharged on Thursday night more than a mile off Foreness Point Pumping Station, after it was unable to cope with the rainfall.
On 30 May sewage was first discharged from an emergency outfall on the beach.
Laura Sandys, Conservative MP for South Thanet, said the sewage system was not "fit for purpose".
More than 20 Kent bathing beaches were closed to swimmers, many of which had recently won Blue Flag awards for cleanliness.
Ms Sandys said: "This period of exceptionally heavy rain has shown that our sewage pipes are no longer fit for purpose.
"I have long called for authorities to adapt to the pressures of climate change and this incident demonstrates that we must do more to guarantee Thanet's resilience."
She said she had received complaints from constituents over the lack of red flags and prominent warning signs on the beaches.
"I will be calling for an urgent meeting with Southern Water and Thanet District Council to ensure that everything is being done to correct the situation," Ms Sandys said.
"I will also be questioning Thanet District Council over its failure to implement a proper action plan"
Southern Water, which is in charge of the pumping station, said the waste water was "heavily diluted" with rainwater and was screened for "non-biodegradable" debris.