Parked lorries in Kent 'making lives a misery'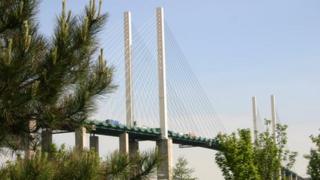 Lorry drivers parking in Kent are "making people's lives a misery" due to a lack designated truck stops, a local councillor has said.
Dartford councillor Matt Bryant represents Joyce Green ward where some residents have complained about lorry drivers parking near where they live.
He said: "We are a main transport interchange with the Dartford crossing. It has caused a real problem."
Kent County Council said there were not enough lorry parks in Kent.
Swale hot spot
Thousands of lorries pass through the county every day but there is only official capacity for parking about 550 of them at any one time at nine truck stops.
A Department for Transport survey for Kent County Council (KCC) found Swale had the biggest unofficial parking hot spot in the south east, where 85 lorries were parked at one spot.
David Brazier, from the county council's highways department, said: "We have a list of truck stops but they are not really truck stops they are transport cafes, they are pieces of rough ground.
"The kind of secure overnight parking with the proper facilities that drivers need barely exists.
"We have identified two or three possibilities on the M20 and on the M2 but we are a very, very long way from being able to stick a pin in a map," he added.
Free tolls
Mr Bryant said he believed the problem at Dartford was specifically related to the crossing.
"A lot of the drivers parking up in my ward are doing so because of its proximity to the Dartford crossing - to wait until 10 o'clock at night when the tolls become free," he said.
"The vast majority of people travelling through Dartford do so in a considerate manner, unfortunately there are a minority that are intent on making people's lives a misery."
Don Armour, from the Freight Transport Association, which represents lorry drivers, said: "This is something that FTA has been very concerned about for a long time.
"Obviously having lorries parked up in side streets and lay-bys is a big issue for local residents and it's not something that is going to go away very quickly until planning allows for lorry parks to be part of the infrastructure of Kent."
Kent County Council's Freight Action Plan 2012-16 , which outlines plans to mitigate the impact on freight on the county's residents, is currently open for consultation, it closes on 23 July.