Care Quality Commission: Tunbridge Wells Hospital meeting standards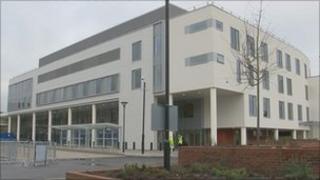 A Kent hospital that received two warning notices is now meeting necessary standards, the Care Quality Commission (CQC) has said.
CQC inspectors issued the warning notices in February to the Tunbridge Wells Hospital at Pembury and made a return visit in April.
They found the hospital was meeting standards in staffing and patient care.
Maidstone and Tunbridge Wells NHS said it had passed the inspection and had also met A&E waiting time targets.
A statement from the CQC said the overall judgement was now that the hospital was meeting all the essential standards of quality and safety inspected.
The NHS trust said the inspection in April was to review the care and welfare of people using the hospital services and staffing levels within the hospital.
Inspectors found that people using the hospital "experienced care, treatment and support that met their needs and protected their rights" and that there were "enough qualified, skilled and experienced staff to meet people's needs", it said.
The trust said that additionally, for May 2012, both the Maidstone and Tunbridge Wells hospitals hit their targets to see the majority of A&E patients within four hours.
The government target aims for 95% of A&E patients to be seen within four hours of their arrival. In May, the trust saw 95.6% of patients within the designated time slot at both hospitals.