Margate's £100,000 boost 'not tied' to Mary Portas show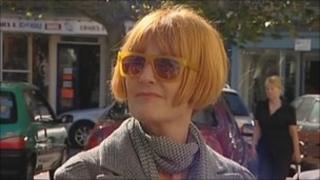 A high street rejuvenation project will go ahead in Margate whether or not traders take part in a Mary Portas reality TV show, an MP has promised.
The Kent resort is among 12 towns chosen by Ms Portas to share £1.2m of government cash and her expertise.
However, she told hundreds at a meeting on Tuesday: "You either let the cameras in with me or I go back on the train and some other town gets it."
Thanet MP Sir Roger Gale said there was no question of money being withdrawn.
"It is entirely up to individual companies and tradespeople in the town whether or not they take part in the programme," the Conservative MP said.
"The Margate Town Team Regeneration Project, backed with £100,000 of government money, will go ahead whatever."
'Warts and all'
Margate is the first of three towns to be chosen by TV production company Optomen Television to feature in a Channel 4 programme, Mary Queen of the High Street, about the regeneration process.
Ms Portas received applause as she addressed the meeting, but acknowledged some people saw the documentary as a "downside".
"If we put this on prime TV people will come," she said. "That is a decision you have got to make.
"It's going to be warts and all but at the end, from my heart, I want this to be wonderful and I want Margate to be wonderful."
Robin Vaughn-Lyons, leader of the regeneration bid, said he was unaware anything had been done "to offend Mary".
"It wasn't until after the event that someone pointed it out to me what she said," he said.
"It was bit of a shock of course but we have got an awful lot to do and we are just getting on with it."
Contract 'redrawn'
Sir Roger, a former TV producer, said contracts local people had been asked to sign with the production company were "restrictive".
"I wouldn't have issued a contract like that and I understand Mary Portas herself has insisted that what she describes as the restrictive parts of the contract will be redrawn.
"I want to see the project succeed and if there is a documentary that shows how and why it has been approached and succeeded that would be very good news for the town."
Ms Portas tweeted that her remarks were "heat of moment stuff with camera stuck in face".
Channel 4 said in a statement: "Optomen is in early talks with a number of local shopkeepers and town representatives.
"Some businesses have been given standard TV agreements. As usual, these agreements will evolve once we have received everyone's initial feedback.
"Mary is passionate about her work to help reinvigorate the high street and the programme will be made in that spirit, so we're keen to work closely with everyone involved."