Faith row Margate GP Richard Scott gets formal warning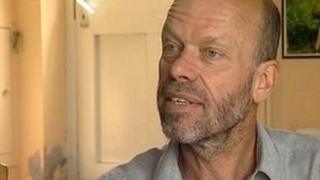 A Christian GP who told a suicidal patient "the Devil haunts people who do not turn to Jesus" has been given a formal warning at a medical hearing.
Dr Richard Scott, 51, whose surgery is in Margate, Kent, was found to have pushed his religious views on the 24-year-old man during a consultation.
The General Medical Council (GMC) ruled the doctor "crossed the line".
But the GP said the four-day hearing was a "charade" and claimed the judgement had been made in advance.
The patient, whose own religion has not been disclosed, attended the "expressly Christian" Bethesda Medical Centre in August 2010.
'Plainly inappropriate'
In an 11-page finding, the GMC committee said the GP told the psychologically disturbed patient, known as Patient A, he was not going to offer him any medical help, tests, or advice.
He stated that if the patient did not "turn towards Jesus then he would suffer for the rest of his life".
The committee also found Dr Scott said no other religion in the world could offer the patient what Jesus could.
Chairman of the committee, Dr Christopher Hanning, said: "The committee consider that you went beyond the limit of such spiritual guidance as would have been appropriate.
"Your actions caused some distress to Patient A, which was foreseeable.
"He said that he felt abused. This is plainly inappropriate and not in his best interests.
"In this way you sought to impose your own beliefs on your patient."
After the hearing, Dr Scott said: "The panel has chosen to believe a patient with massive and multiple problems against a doctor of 28 years' standing."
The GP also said a doctor who practised "reiki, acupuncture or even Islam" would not be in his position.
"I think they are discriminating against Christians. I am both angry and disappointed in my professional body," Dr Scott said.
He said he would continue to raise the issue of faith and in particular Christianity where relevant in future consultations because it was "for the patient's benefit".
The GMC has denied being anti-Christian or hostile to any religion as long as the matter is raised by doctors within guidelines.
After the hearing, Niall Dickson, GMC chief executive, said: "Our guidance is clear - doctors must not impose their own beliefs on their patients or cause them distress by inappropriately expressing their own views."
'Gentle offer'
He said Dr Scott's actions had been "a clear breach of guidance" and the panel concluded the GMC was right to issue him with a warning.
A spokesman for the National Secular Society said: "We welcome the GMC's determination making it clear that doctors - whether religious or not - must set aside their own personal beliefs and not evangelise when treating patients, far less suggest that they adopt a different belief."
During the hearing, Dr Scott said he made a "gentle offer" to the patient to broach the subject of faith and the patient told him to "go for it".
But later Dr Scott said the patient "cut up rough".
The warning will stay on Dr Scott's registration for five years.