Medway CCTV parking fine car in 'landmark' ruling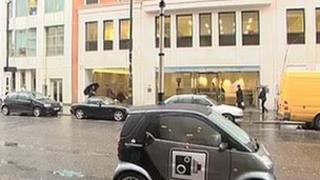 Campaigners have hailed an appeal against a parking ticket issued in Chatham as a landmark ruling against CCTV camera "spy cars".
The appeal was upheld against a £70 fine issued by Medway Council to a driver captured by the camera car waiting for 63 seconds at a taxi rank.
Campaign group NoToMob said the appeal proved the camera car was being used in breach of government guidelines.
But Medway said it was using the car correctly and would continue to do so.
The ticket was issued after the driver was spotted allegedly illegally parked in Ordnance Street.
The tribunal ruled the driver did not have to pay the fine because the signage at the taxi rank said "no waiting" rather than "no stopping" and therefore the alleged offence did not occur.
But it also reminded the council of government guidelines that CCTV cars should only be used in places where it was difficult for traffic wardens to get to on foot.
'Contest the ticket'
In mitigation, the council said the taxi rank was near a school and there had been instances of verbal abuse towards its officers.
NoToMob spokesman Nigel Wise said the campaigners believed anybody who received a parking ticket after their car was spotted by the camera should appeal.
"It is quite clear that the car is being used in circumstance where it should not be used," he said.
"Medway Council operate a system of issuing tickets, then when people appeal they do not contest the ticket at the parking tribunal."
Medway assistant director Andy McGrath said the council had addressed issues of where it could use the car 14 months ago.
"The car is predominantly deployed outside schools every morning and every afternoon of term time, and we believe that we are using the car appropriately," he said.
"If people think they have been issued a ticket incorrectly then we signpost people towards the appeal route. We are happy to receive the appeals."