Vestas pulls out of plans for Sheerness wind turbine factory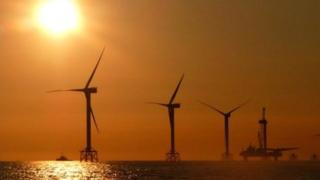 A wind turbine company has pulled out of plans to set up a manufacturing plant in Kent which was to have created about 1,600 jobs.
Vestas, which supplies 40% of the world's offshore turbines, said it would not proceed with the site at Sheerness Dock on the Isle of Sheppey.
The Danish company, which also tests turbines on the Isle of Wight, was granted planning permission last month.
Swale Borough Council said it was a "bitter disappointment".
"We can only speculate on the reasons, but we know that Vestas has recently had some major management changes and has been facing some big internal financial challenges," the council said in a statement.
It said the last outstanding points of the planning permission were only resolved earlier this week.
"It is extremely disappointing to have got so far down this route only for Vestas to withdraw," said council leader Andrew Bowles.
'Commitment unchanged'
Conservative MP for South Thanet Laura Sandys also said she was "extremely disappointed" by the decision.
She added: "As a hub for green technologies and low carbon energy generation, attracting green companies is central to our local investment profile.
"Vestas' decision will have been a commercial one but it also suggests a lack of confidence within the industry over the government's commitment to the green economy and crucially offshore wind.
"The market needs certainty from government if it is to deliver the thousands of jobs and billions of pounds of investment that could secure our economic recovery.
"Not only will green investment create jobs, it will reduce long-term costs by protecting the UK from rising oil prices. This is good for business and good for families across the country. Now is the time for government to demonstrate its commitment to low carbon energy."
A Vestas spokesman said the factory was conditional on concrete orders, which had not been received.
"We want a good pipeline of orders before we advance further and we do not have that at this point in time," the spokesman said.
The Port of Sheerness and Vestas issued a joint statement thanking the council and the local community for their co-operation.
Vestas said its commitment to offshore wind power remained unchanged.
Vestas' presence in the UK includes the newly upgraded facilities on the Isle of Wight that undertake research and development into wind turbine technology.
It said it was also working on the development and construction of a number of key wind projects, both onshore and offshore, with UK customers.
'Best location'
But the company, and Peel Ports, which operates the Port of Sheerness, said that "due to legal obligations" they could not comment further.
Peel Ports said it was extremely disappointed it had been unable to conclude the agreement with Vestas.
"However, we remain fully committed to the strategy outlined for the Port of Sheerness of attracting major renewables manufacturers," it said.
Mr Bowles said the council was convinced that Sheerness was the best location for wind turbine manufacture.
"Our work is not wasted and we will continue to look forwards," he said.
"We will work with Peel Ports to attract another operator who can build on the groundwork we have already done."