Michael Chapman's memorial garden damaged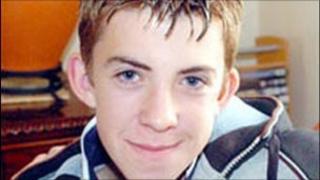 The family of a Kent teenager who was killed at the age of 16 have described an attack on a memorial garden as "totally malicious".
Michael Chapman, from Sittingbourne, was kicked and punched to death on school playing fields in June 2006.
His mother, Sue Chapman said vandals had damaged 90 leylandii trees planted in his memory after other plants were destroyed last year.
She said: "All my trees had been taken out and most of them destroyed."
The trees had been planted to mark the sixth anniversary of Michael's death, Mrs Chapman said.
"I feel that everything I try to do for my son, something happens."
His killer Lee Cowie, then 19 and Michael's former friend, was sentenced to four years in a young offenders' institution in May 2007 after pleading guilty to manslaughter. He was freed in June 2008.
Describing her feelings for those who damaged the trees, Mrs Chapman said: "I think they are the scum of the earth.
"How can you go into a church, knowing what you're doing, and take from the deceased?
"I just find it totally sickening."