London to Dover coach journey marks Charles Dickens birth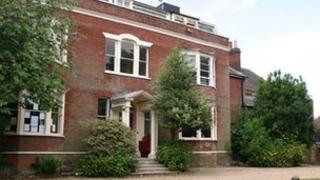 A horse-drawn stagecoach has left the Charles Dickens Museum in London for Dover on a two-day journey to mark the bicentenary of the author's birth.
The 19th Century-style road coach, called Nimrod, is travelling in five stages on the 88-mile route.
On Saturday Mark Dickens, the great great grandson of the Victorian author, was among the passengers.
The coach stopped briefly at Gad's Hill in Higham, Kent, where Dickens spent the last years of his life.
Organiser Colin Pawson said the journey had been planned by a group of friends who were all coaching enthusiasts and who had made similar fundraising journeys in the past.
Helping children
He said: "This journey came about because the coach was signed London to Dover.
"These road coaches always operated on signed routes, we never had the opportunity to drive the Dover Road before, and when the bicentenary came up, we decided this was the occasion."
He said passengers on the coach were raising money for Barnardo's because Dickens had been particularly concerned about disadvantaged children.
He also said the author's novels had featured many coach journeys including The Pickwick Papers.
The Nimrod coach is carrying seven people on each stage of the journey, with five stages each day, using five teams of horses.