Ramsgate RNLI crew numbers hit by offshore wind farms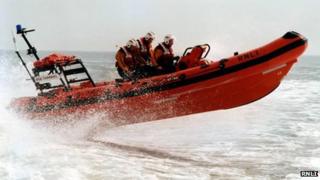 The RNLI in Kent is struggling for volunteers because of the number of job opportunities at offshore wind farms.
Ramsgate lifeboat station, based in the town's marina, is experiencing a low number of crew members who can respond to calls for help during the daytime.
Coxwain Ian Cannon said the main cause was local employment opportunities at wind farms off the Kent coast.
He said the kind of skills needed work on the wind farms were similar to those of lifeboat crew.
"We have lost a few people to that industry," he said.
"They still want to be involved with the RNLI, but they're just not in a position to respond to the pager if they're already 50 miles out at sea when it goes off!
"Although at the moment we are able to attend every shout for help, we might not be able to in the future."
Dispel the myth
In a bid to address the falling numbers, Ramsgate lifeboat station is holding an open evening on 11 July for people interested in volunteering.
Mr Cannon also wants to dispel the myth that people need sailing experience to become a volunteer.
He said: "Only one in ten lifeboat crew members come from a maritime background.
"It's not unusual to find builders, tradesmen, solicitors, hairdressers, and all manner of other jobs amongst the crew, which makes for a real community feel.
"The only thing you need to get involved at a lifeboat station is a little time, a willingness to help and the desire to be part of a wider cause."