Dover heritage strategy looks to sea defences 'to boost economy'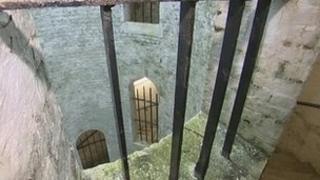 "Hugely under-used" heritage attractions in Dover could bring regeneration and boost the local economy, the district council has said.
The east Kent local authority has set out tourism plans in its heritage strategy - a document the government now requires of all councils.
Councillor Nick Kenton said tourism chiefs needed visitors to realise the area was "more than just Dover Castle".
He said other attractions such as the town's sea defences should be explored.
"Some of them are hugely under-used at the moment - the forts of Dover, Fort Burgoyne and the Western Heights," he added.
"Not many people go there or are even aware of them really."
'Stories to be told'
He said part of the strategy would be to advertise all attractions together so Dover Castle visitors would consider visiting the coastal forts - such as the defences in Deal, Walmer and Richborough - at the same time.
He added: "In some ways, we have an overabundance of assets in the Dover area, so a lot of people tend to focus on the castle."
He said Dover council had worked with English Heritage and Kent County Council to form the strategy, which would ensure the attractions played a clear role in future regeneration and development.
Dr Andy Brown, South East planning director for English Heritage, which owns Dover Castle, said the strategy had shown how many amazing stories there were still to be told about Dover's heritage.
He said: "Western Heights could be as big as Dover Castle in a few years' time. That's how big an attraction it could be."
"It ought to be. It's the country's only fortress. There's nothing like it. It is an absolutely awesome experience.
"If only we could get more people in to visit it, it would be a tremendous benefit for the economy of Dover."
The council said consultation on the strategy would run until 16 August.