Maidstone baby killing accused Wayne Acott 'was good father'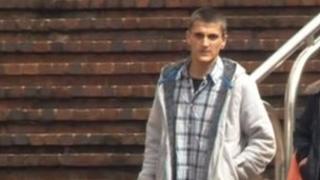 The mother of a baby boy who was allegedly shaken to death by his own father has told jurors her former partner was a good parent.
Susan York's four-month-old son Mackenzie Acott died when his life support was turned off a week after the alleged incident in January last year.
His father, Wayne Acott, 22, of Square Hill Road, Maidstone, denies manslaughter at the town's crown court.
When asked if Mr Acott had been a loving parent, Ms York replied "yes".
'Cannabis use'
Defending, Orlando Pownall QC asked Ms York: "Wayne Acott was a loving father wasn't he?"
Mr Pownall also asked: "He perhaps didn't do as much as he could but he did sometimes help?"
Ms York replied "yes" to both questions.
Jurors had heard how Mr Acott used cannabis, but Ms York said that made him "more chilled".
She said she did not believe he had been using the drug on 21 January 2011, the morning that Mackenzie stopped breathing.
Ms York said her baby seemed fine when she left him with his father to take her other daughter to school, but when she returned, Mackenzie was gasping for breath and his eyes were fixed.
'Patted son on back'
PC Joanne Hazlewood said that when police went to the house, Mr Acott told her: "The baby was lying on the sofa. I picked him up, picked up his bottle and he started struggling to breathe. I picked him up and patted his back and he made baby noises.
"He was all limp and his breathing was really funny and I laid him on the sofa and I called the other half."
She said Mr Acott that day was "lethargic and mumbling" and had red sunken eyes and the appearance of someone who had been up all night.
The court heard ambulance technicians who treated the baby described him as having turned blue with no sign of a heartbeat.
Dr Tashar Vince, a consultant at Kings College Hospital where the baby was treated, told the court there was "no naturally occurring process" to cause the injuries. She said they could only be caused by "excessive, unusual force".
The prosecution has claimed Mr Acott woke to hear his baby crying and that his son would not take his bottle, after which Mr Acott shook him causing "catastrophic and sudden collapse".
The court heard investigations at the hospital showed Mackenzie had bleeding to the brain, bleeding to the eye and brain damage.
A post-mortem examination found the infant died from head injuries.
The case continues.