Arrests in low-level crime operation in Ashford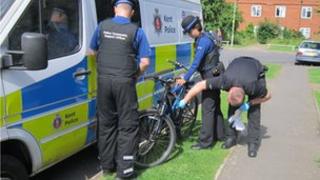 Police targeting low-level crime in Ashford have arrested 11 people in the first three days of their operation.
Kent officers have raided a number of properties in the town in an attempt to crack down on drugs and vehicle crime, burglary and theft.
A woman has been charged with cannabis possession, and the others are being questioned about assault, drugs offences and witness intimidation.
Police hope the targeted operation will have a "big impact" on local crime.
Five people were arrested on Monday and the woman on Tuesday.
In the early hours of Wednesday, a man was arrested on suspicion of theft from a vehicle.
Later, following concerns voiced by local people, police executed a search warrant in Ashford's Godfrey Walk, arresting two 29-year-old men on suspicion of possessing cannabis and theft.
Another man was arrested as he rode past the address being searched.
The operation, which is still running, involves volunteer special constables and neighbourhood teams as well as officers, dogs and the police motorcycle unit.