Stars back National Trust's white cliffs of Dover bid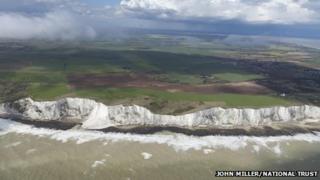 Actress Dame Judi Dench, singer Joss Stone and yachtswoman Dame Ellen MacArthur have backed the National Trust's £1.2m appeal to buy a mile-long stretch of the white cliffs of Dover.
The trust has raised almost £600,000 since it launched its bid for the coastline to the east of Dover in June.
It already owns about four miles of the chalk cliffs.
The purchase would allow the trust to prevent building, ensure a public right of way and conserve nature.
It would fill in the gap between the two segments it already owns, creating a five-mile (8km) contiguous reserve with guaranteed rambling rights and nature protection.
Important landmark
Managers are keen to extend these measures to the new stretch, which currently belongs to a local landowner.
Ms Stone, who was born in Dover, said: "I love Dover and the white cliffs.
"They mean so much to me and I hope that the National Trust raises enough money to buy the land for future generations to enjoy."
Other well-know figures who are backing the trust's appeal include singer and World War II forces sweetheart Dame Vera Lynn, chef Rick Stein, actor Richard E Grant, yachtswoman Dame Ellen MacArthur and comedian Paul O'Grady.
Kent resident Mr O'Grady said: "The white cliffs are Kent's most famous and stunning landscape and have a very special place in many of our hearts. I'm backing the National Trust appeal so that they will be secure forever, for all of us."
The cliffs, which can be seen from France, were voted the UK's third best "natural wonder" in a 2005 Radio Times poll, behind the Dan yr Ogof caves in Wales and Cheddar Gorge in Somerset.
They became an important landmark in WWII and were immortalised in the wartime ballad (There'll Be Bluebirds Over) The White Cliffs Of Dover, sung by Dame Vera.
"In just one month, thousands of people have backed our appeal and we've raised almost half of the money needed," said Fiona Reynolds, director-general of the trust.
The chalkland supports wildlife including the Adonis blue butterfly, birds and plants.