Wayne Acott jailed for shaking baby son to death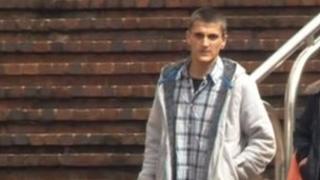 A 22-year-old Kent man has been jailed for five years for shaking his four-month-old son to death.
Wayne Acott, of Square Hill Road, Maidstone, had denied manslaughter but was found guilty following a trial at Maidstone Crown Court.
His son, Mackenzie, died when his life support was turned off a week after the incident in January 2011.
The court heard hospital tests showed he had bleeding to the brain, bleeding to the eye and brain damage.
During the trial jurors were told Acott shook Mackenzie, causing "catastrophic and sudden collapse", after he woke to hear him crying and he would not take his bottle.
'Momentary lapse'
Mackenzie's mother, Susan York, said he seemed fine when she left him with his father but when she returned, he was gasping for breath and his eyes were fixed.
She described her former partner as good parent but said that day he had been "lethargic and mumbling", had red, sunken eyes and the appearance of someone who had been up all night.
Judge Jeremy Carey told Acott: "When Mackenzie didn't take his feed you snapped.
"It was momentary but it was devastating in its consequences because you shook that little baby, you threw him down and you caused him the appalling injuries which this jury has heard about."
The judge said Acott clearly had no intention of harming his child but his temper had got the better of him.
Speaking after the case, Det Insp Trevor Fleming, of the Kent and Essex Serious Crime Directorate, said: "It is very sad when such a young life is ended by a parent.
"It is the case that many parents feel the strain of the early months of a new baby.
"Unfortunately, it would appear this young man had a momentary lapse of control."