Board criticises mixed-use Rochester jail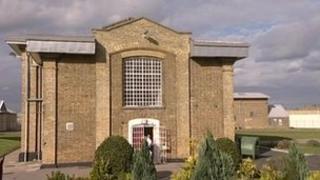 Concerns have been raised about a "disruptive" change to use a Kent jail as an adult prison and a young offender institution (YOI).
The independent monitoring board for Rochester prison and YOI also said the change did not appear to deliver "any discernible benefits".
Board chairman Euan Eddie also said the move was an unnecessary and unwelcome diversion of management and staff time.
The Prison Service said the report would be considered by the government.
'Review budget cuts'
Mr Eddie said: "The partial re-role of Rochester to a mixed category C adult prison and Young Offender Institution has been an unnecessary and unwelcome diversion of management and staff time, at a time of ongoing pressures and demands, mainly due to the significant and continuing budget reductions imposed on the Prison Service.
"Rochester has continued to be a well-run institution, with management and staff responding positively to the challenges they have faced; they are to be commended for that.
"However, the Board feels that the limitations on resources will not help with the stated aim of rehabilitation of prisoners, and feels that further budget reductions must be reviewed."
The report said HMP and YOI Rochester provided a safe and decent environment despite reduced budgets and loss of new accommodation because of the need for repairs.
It said staff generally dealt with the young offenders and prisoners in their care openly, sympathetically and effectively.
And it said the recently appointed governor was focusing on integrating the two classes of prisoners, but the board was not convinced there was ever a need to expand the role of the prison in the first place.
A statement issued by the Prison Service said: "The independent monitoring board's report into YOI Rochester will be considered by ministers, and we will respond fully in due course."
The jail, originally built in 1874 and once known as the Borstal institution, became a dedicated site for young men up to the age of 21 in 2002, but started to accept Category C adult male prisoners from June 2011.