Cristobal Palacio trial: Paul Winter shot 'in self defence'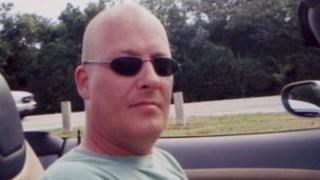 A man accused of murdering his ex-wife's husband has told a US court he shot him in self defence.
Cristobal Palacio, 46, who denies murder, is accused of shooting Paul Winter, 42, on his driveway in Kendall, Miami, in 2008.
Mr Winter, originally of Tunbridge Wells in Kent, died in front of his wife Jennifer and her twins.
At Miami's Gerstein Justice Building, Mr Palacio said he shot Mr Winter because he feared for his life.
He told the jury that on two occasions Mr Winter had threatened him with a gun.
'Survival shooting'
On the night in question, in October 2008, he said he thought Mr Winter was going to kill him.
Earlier, the trial heard the defendant, who said he was not a violent man, fired "in panic".
A firearms expert said Mr Palacio had fired nine bullets in just a couple of seconds.
Ken Cooper told the court that, in his opinion, it was consistent with Mr Palacio's account that he was acting in self defence.
"The gun was deliberately fired, in what I call a survival shooting", Mr Cooper told the court.
"Panic fire is when you are stressed and you react.
"It's not really conscious thought. With a hand gun you point the trigger as fast as you can, fighting off an attacker," Mr Cooper said.
Earlier in the trial, the prosecution claimed Mr Palacio came out shouting and screaming, and then shot Mr Winter deliberately six times, twice in the back.
'Hospital assessment'
The jury was told that in June 2007 Mr Palacio had been taken to hospital suffering from tingling in his hands and fingers, a raised heart rate and sustained high blood pressure.
Lt Eric Ferrer from Miami Dade Fire and Rescue told the court that when he arrived to treat Mr Palacio, the defendant told him that Mr Winter had pointed a gun in his face, causing his symptoms.
Mr Palacio, who takes medication for his condition, then spent a couple of hours in hospital undergoing assessment during which his high blood pressure and pulse did not stabilise.
The court heard Mr Palacio had failed to take his medication that day in 2007.
The jury was also shown videos of tests on the same make of gun used in the shooting which showed that its magazine of nine bullets could be discharged in less than two seconds.
The trial continues.