Sprinter Andrew McCabe finds 'stolen' spikes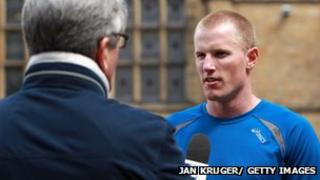 Australian Olympic sprinter Andrew McCabe has found the running spikes he reported stolen from his Kent training base.
Mr McCabe had a bag containing personal items and his national kit taken from a bench beside the running track at Tonbridge School, Tonbridge, 3 August.
Mike Tancred, Australian Olympics Team spokesman, said the athlete later found the spikes in another bag.
"I think he got a little bit excited," Mr Tancred said.
The 21-year-old athlete is due to compete in the 4x100-metres relay on Friday.
Mr Tancred said: "Some of his items were stolen, including his iPhone. He thought his spikes were too. I think he found them later in another bag.
"He's happy. He's got his spikes and he can run on Friday so he's happy."
A spokesman for Kent Police said: "The victim has found his spikes and they no longer form part of the investigation.
"Two people, a 28 year-old man and a 27 year-old woman, both from Tonbridge, have been arrested in relation to a report of theft from an Olympic athlete in Tonbridge.
"The two people arrested are currently on police bail."
The Australian athletics team has been using Tonbridge School, one of the country's leading boys' boarding schools, as its training camp.
Kent Police said Mr McCabe's bag did not contain any official Olympic identification or accreditation passes.