Grotto craftsmen nominated for English Heritage award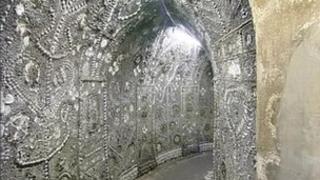 Two craftsmen who helped save one of Margate's most unusual attractions have been shortlisted for an English Heritage "angel" award.
Adrian Powell and Robert Smith were nominated for preserving and restoring damaged shells in the Shell Grotto.
The underground maze of tunnels made of millions of shells was discovered in 1835 but could be 12,000 years old.
The site under a residential garden has been damaged by damp conditions after it was concreted over in the 1980s.
Nick Dermott, heritage advisor for Thanet District Council who nominated the conservators, said their "commitment and passion" went beyond the call of duty.
'Real mystery'
"Working eight-hour shifts doing close work in cramped, damp, underground conditions represents a considerable undertaking," he said.
Mr Powell and Mr Smith have been shortlisted for the national English Heritage award along with 16 other rescue projects.
The grotto in Grotto Hill is a privately-owned tourist attraction, but English Heritage watch over its preservation as it became a grade one listed building in 1973.
Current owner Sarah Vickery said: "We don't know a great deal about its history at all, but that's the joy of it.
"So many places now, the mystery's been taken out of them. They can be carbon dated, there's the technology, but we've tried all that here and none of it's worked. So it's a real mystery and that's fabulous."
One theory is that the grotto was a rich man's folly, similar to many built in the 1700s in the grounds of stately homes.
But the site under farmland is not believed to have ever formed part of a large estate, and others believe the grotto is devotional and far older - possibly up to 12,000 years old.