Dog survives 250ft fall over White Cliffs of Dover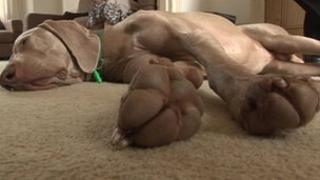 A dog which fell 250ft (76m) from the White Cliffs of Dover while chasing a rabbit has made an "amazing recovery".
Norman, a one-year-old Weimaraner, punctured a lung and fractured his pelvis when he fell the height of six houses into an Eastern Docks yard.
Dock workers went to the dog's side and he was taken to local vets, who said he was pale but "remarkably well".
Owner Simon Spore said he thought Norman was dead when his fiancée's son, who was walking the pet, called him.
The prison officer, 49, and his fiancée Jane Westfield were shopping in Canterbury when they received the call from 19-year-old Josh.
"I was absolutely distraught. Josh was in total shock. We just didn't know what we were doing," he said.
'Relatively rare'
"In my mind I was going back to retrieve a dead dog, my dog."
Ms Westfield said Norman's lungs re-inflated after just two days and his recovery had been "amazing".
Dover vet Chris Reichmann said: "We expected him to come in here really bleeding with broken legs and severely injured.
"He had cuts and bruises. He walked in panting and he was pale, but he seemed remarkably well."
Mr Spore, from Tower Hamlets in London, praised the vets and the dock workers who hoisted themselves over a fence to get to Norman.
He has also called for more warning signs to be erected on the cliff-top to alert dog owners to the dangers of letting them off the leash.
"I've heard of many dogs falling off the cliffs and not surviving. I have never in my whole life taken my dog for a walk up the cliffs because of that fact. There is not enough warning," he said.
A spokesman for the National Trust, which owns the land from which Norman fell, said: "Although this is a very sad incident, it is relatively rare.
"On our land at the White Cliffs, there are discreet warning signs at most gates and at approaches to the cliff edge.
"We do not have large signs or fencing all the way along the cliff edge because we also have to be careful to preserve the natural beauty of our places."