Call for action over Margate seafront's 'eyesore'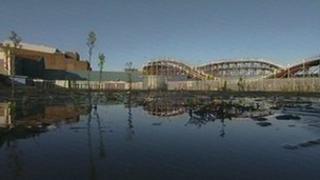 Thanet council is being urged to "take robust and immediate action" to restore Margate's disused Dreamland theme park.
The secretary of state for communities and local government has approved the compulsory purchase of Dreamland by the Thanet District Council.
Roger Gale, MP for North Thanet, said: "For far too long the semi-derelict former Dreamland site has been allowed to blight Margate seafront."
The authority wants to turn the site into a £10m heritage park.
The plans for the park include historical rides and sideshows.
Current owners, DreamlandLive, objected to the sale, saying the council's plan was not affordable.
DreamlandLive's plan involved building 400 homes, as well as restoring the Grade II-listed Scenic Railway around a fun park and a digital media studio.
The two competing visions of the site were aired during a public inquiry in January.
Mr Gale said: "We have been blessed with the Turner Contemporary at one end of the bay and cursed with an eyesore at the other.
"I trust that Thanet Council will now take robust and immediate action to secure the necessary support and funding to bring about the restoration of the scenic railway."