Regeneration plans for Cliftonville and Margate homes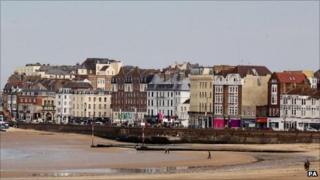 A £23m project to regenerate housing in the Kent seaside town of Margate will see almost 300 new homes in the area.
Thanet District Council's plans include buying some of the one-in-four empty properties in the town's coastal area of Cliftonville and central Margate.
Some of the large houses converted into single flats and bedsits will be turned back into family homes.
Ian Driver, chair of the council's Overview and Scrutiny Panel, said anyone forced to leave must be helped.
Mr Driver, an Independent member of Thanet District Council, said Kent County Council was contributing £12m to the scheme. The Homes and Communities Agency is also helping to fund the project.
He said: "I'm all in favour of this scheme. The Overview and Scrutiny Panel does have some reservations.
"It's essential to develop a strategy and a plan to give help to those people who will be forced to leave the area because of the development.
"We can't leave people high and dry. These are very vulnerable people."
The council said it wants to encourage more families into "two of Britain's most deprived wards".
A programme of improvements would "create a step-change in the housing market".
"A principle aim of the project is to intervene to achieve a 'tipping point' in the housing market for the two wards and it has been established that to achieve that position would require the acquisition of 300 properties representing around 10% of the properties in the area," the council's planning document said.
Marc Johnson, from Milton Ashbury Estate Agents, said: "We need a big change in the demographic here, and the type of people we have living here I don't think that is going to happen in the next few years. I think we need to be looking at the 10 to 15-year route."
On Friday, the council was given the go-ahead to compulsorily purchase Margate's disused Dreamland theme park.
The authority wants to turn the site into a £10m heritage park with historical rides and sideshows.
Mr Driver said: "Dreamland and the Turner and this intervention in Cliftonville in the long run are all very good news for Margate."
Thanet council will consider the new proposals on Thursday evening.